COVID-19 is an infectious disease caused by a newly discovered virus. Most people who become ill experience mild to moderate symptoms and recover without special treatment. Coronavirus affects many people in different ways. When the first case of covid-19 was reported in Kenya, all educational institutions were closed, private and public companies were advised to close and their employees to work at home. Only business establishments providing essential services, e.g., supermarkets, hospitals, drugstores, and food-producing establishments were allowed to continue operating with minimum staffing to ensure distance. As a result, workers went on unpaid leave, some businesses were forced to close completely, while others lost their jobs.
Most of the children that Why Not Foundation supports come from poor families. The families of these children struggle to meet their needs. As a result, most of them live from day to day, as they depend on temporary jobs. When the first case of corona was reported in March 2020, it brought much suffering. Parents were forced to stop working and stay home to avoid infection. For these families, this meant eating only once a day or even sleeping hungry due to lack of food. The little support that the government offered to its citizens was not enough and was only provided to a few.
Therefore, we decided to start a food package campaign to help the families of sponsored children. The government had imposed restrictions such as; a lockdown from 7pm to 5am in Mombasa, Kilifi and Kwale in the coastal region due to the high rate of infection and the advice to stay home.
With the financial resources of donors from the Netherlands, food could be distributed to the families. The food was distributed at two strategic food distribution points, one at Bamburi managed by Catherine and Connie and another at Majaoni managed by Matilda and one of the parents (father of Samson Karanja Mwachingi). In this way, families did not have to travel far or incur expenses to pick up their food packages. We were eventually able to hold five rounds of distribution of packages due to additional donations.
Below are photos and explanations of how we distributed food packages to families from April to August 2020: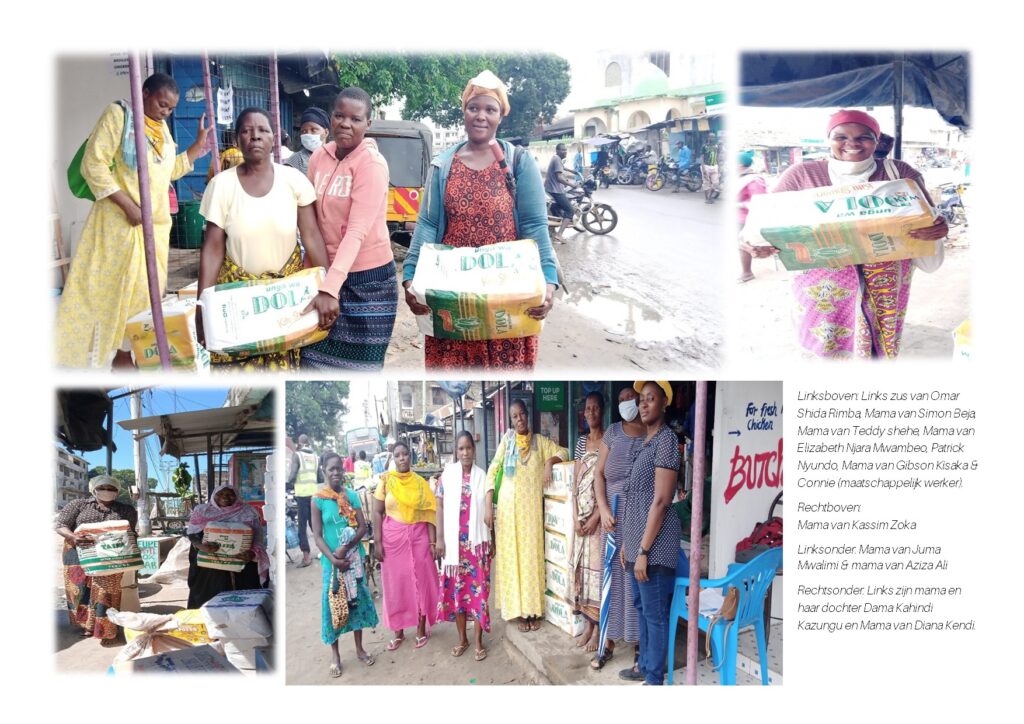 First round
We received 164200 ksh from the Netherlands to distribute food packages to 104 families.
In the month of April, each family received 24 kg of maize flour. The packages were distributed from two points from 9 to 13 April 2020, so that the beneficiaries could easily reach them. Catherine and Connie distributed food packets from a store in Bamburi, while Matilda, with the help of one of our parents, distributed food packets from a store in the Majaoni area. Each parent had to sign a form to receive the package. Photos were taken during the distribution. The photos were shared on the organization's facebook page to thank donors and showcase the results. Below are some of these photos: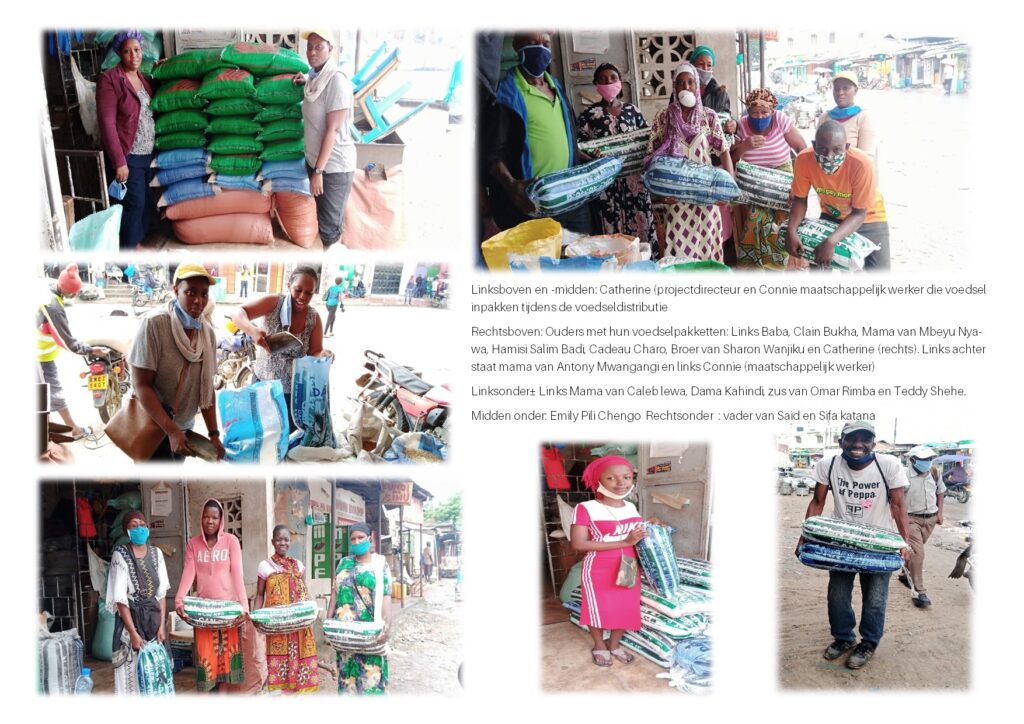 The parents were very happy with their packages. Their faces were filled with joy after receiving food assistance from the Why Not Foundation during this extra difficult time.
Challenges during the distribution of food packages include:
5 of the sponsored children did not have access to Mombasa province to pick up their food packages due to lockdown.
More parents of children with special needs who are not sponsored by Why Not and some who are no longer in the program also came for help because they heard about it. Because of limited funding, it was difficult to send them away.
We forgot some children in the first list, but did include them in the second round.
Sometimes it rained too hard or was too sunny to distribute food packages, as there was not enough room in the stores to wait for parents to come and pick up the food packages.

2 Fourth round
The second round of handing out packages was from May 6 to 8. We were able to distribute food packages to 125 families. The parents were so happy with the food packages and appreciated it a lot. Most of the families have no or little income.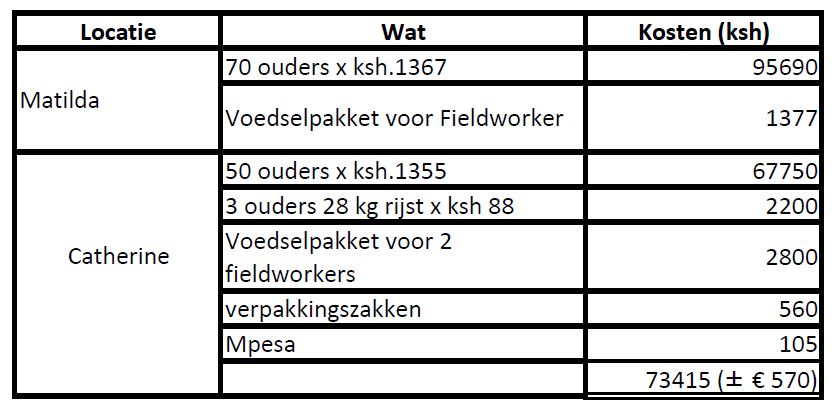 Also during this round there was inconvenience from heavy rains. People in Matilda's neighborhood followed her home to ask for food. She had to say no, because the food was reserved for 120 families. Matilda needed 4 days to distribute her food packages. After discussion with Wendy, it was agreed that the fieldworkers can include new cases of persons with special needs in the 3rd phase of food distribution.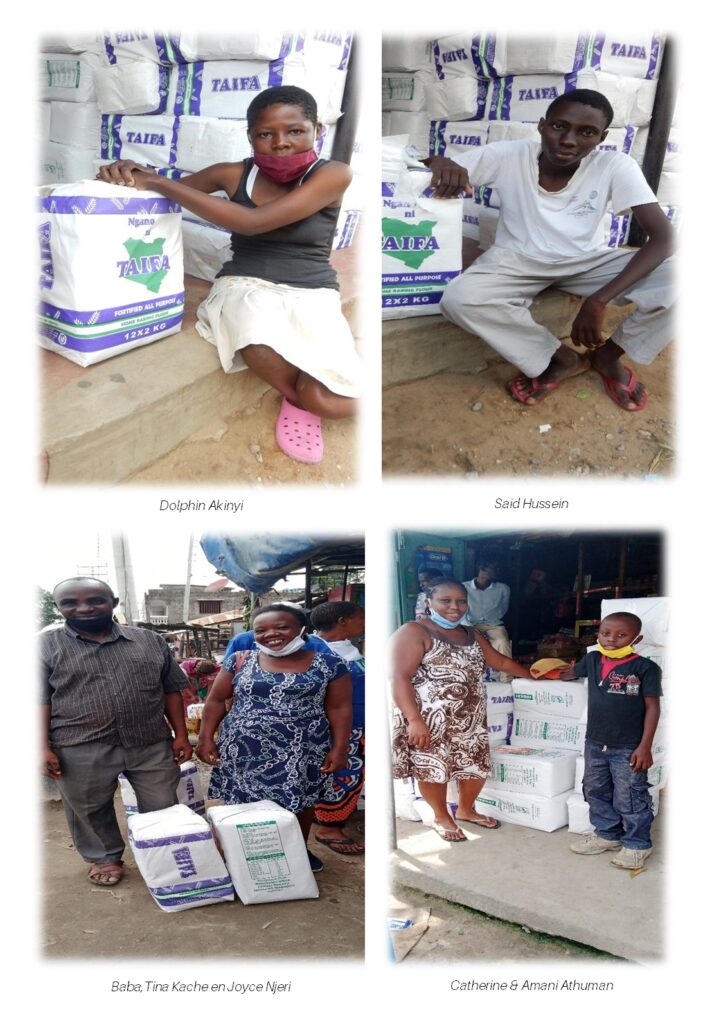 Follow-up action
Wendy indicated that there was money left for one and a half rounds of food parcels. She asked us to discuss whether we would do a large distribution in June or distribute it between June and July.
Catherine received a donation of ksh.10,000 from Dhanani Moonaver. She is Alia's sister who supports us from time to time. The money was deposited into the organization's account.
3 Fourth round
We received 167,000 ksh. On June 10 and 11, food packages were once again distributed to 132 families. Each family received 12 kg of wheat and 12 kg of cornmeal. Photos and some videos were made during this round as well.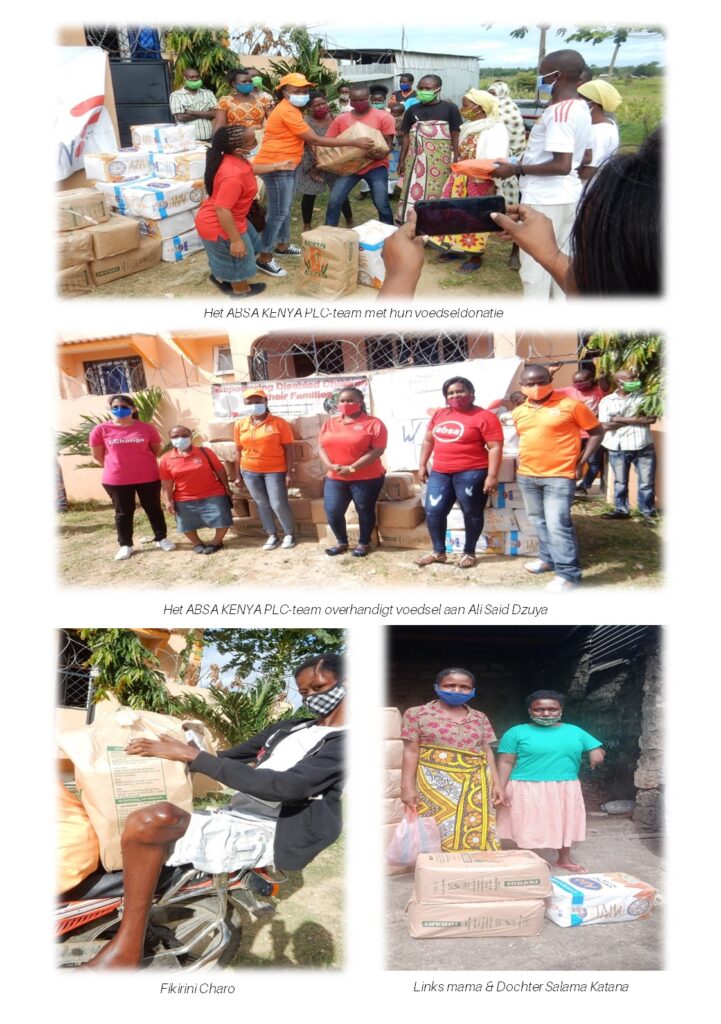 4 Fourth round
We received 132,000 ksh from ABSA KENYA PLC (the bank where we manage our money) and 12,000 ksh from two donors to buy food and distribute it again to the families we support. We did this on July 11 at Bamburi and Majaoni. We succeeded in distributing packages to 148 families.

Challenges:
Two hours before the start we have to move the distribution from our office instead of the store.
Absa Kenya PLC staff arrived late at the distribution point, which meant that many parents were already there at the same time, making it difficult to maintain distance.
It was difficult to keep parents and onlookers calm.
Street families made it difficult to distribute food because they stormed the distribution point. They were demanding food. We had to give them some of the flour to make them leave so we could move on.
We left the distribution point around 7 am because we had to wait for Absa Kenya PLC to send the remaining balance of ksh.50,000 through M-pesa. The delay was caused by a flat tire.
Fifth round
Catherine received 135,330 ksh from Marloes through M-pesa to purchase food parcels. On August 13, food was distributed to 162 families. The distribution was peaceful. The parents were told that this distribution would be the last. We also had parents who were not on the list, but still came to ask for food that day. We did our best to help everyone. The parents appreciated the support the organization had provided for the past 5 months. Pictures and video were taken during the distribution exercise to show the sponsors.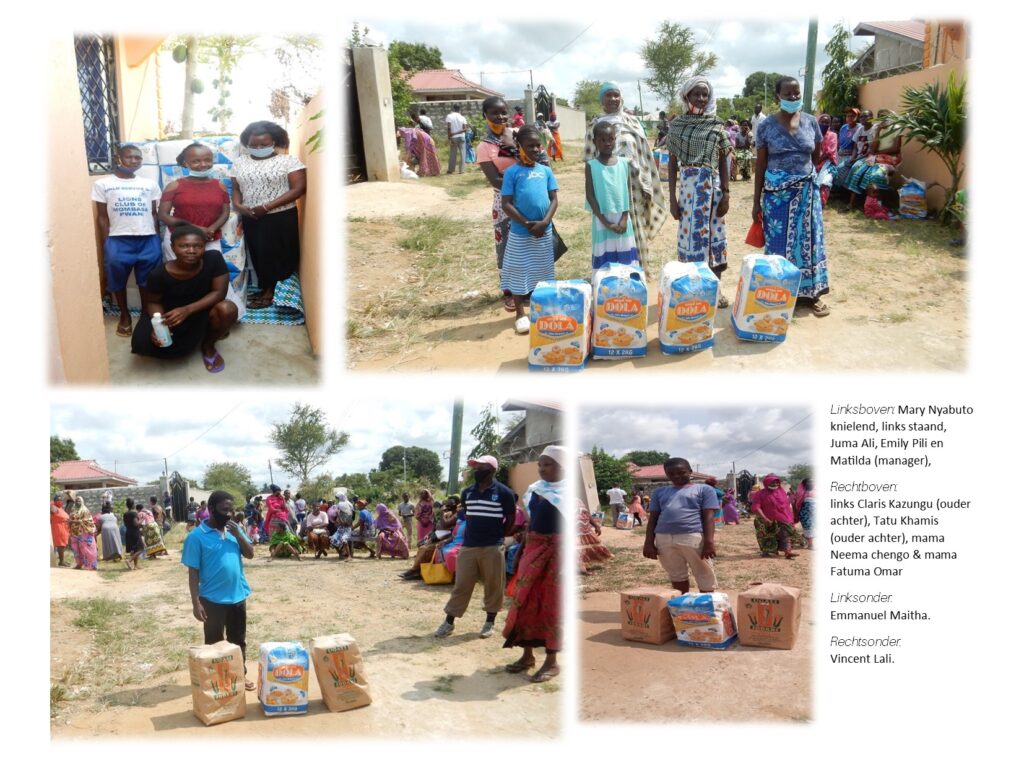 Results
Parents benefited from awareness about covid-19
Many people have been informed about what Why Not Foundation does
More parents approached Why Not for help
Families of children with special needs received food aid
Improved interaction between the organization and parents in collecting updates
With food assistance, it is easy to see how donors' gifts directly reach families.
Recommendations
Encourage more parents to join the ´support groups´ for economic and psychological help.
Encourage parents to save so they have something to fall back on in difficult times
Use Home Program to activate parents / children to engage in income generating activities to overcome the effects of covid-19.